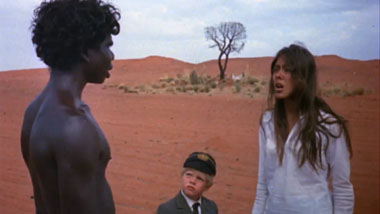 A man drives his son and teenage daughter (credited only as White Girl and White Boy) into the outback, lights the car on fire, tries to shoot them, and caps himself. Young aborigine (Black Boy) finds them, helps them return to civilization. Film.
This isn't a movie that's seen very often anymore, which is a shame.
I actually first saw Walkabout in a film class in high school. We had a video projector on the cyclorama of the school stage jury-rigged into a quasi-cinema. Our teacher, having spent his '60s youth (and met his Kiwi wife) hitchhiking around Australia and New Zealand (in a way very foreign to a '90s teenager) didn't seem to have actually sat down and watched the movie through in some time. Being reminded how risqué it becomes at times, the class could see him squirming, but we wouldn't let him turn it off.
What a remarkable film. It has moments that've stayed with me ever since, through film school and beyond. Interestingly, the current rage that year for us Black Boy/White Girl-aged students had been Aussie Baz Luhrmann's overclocked refresh of Romeo + Juliet. The two might make an interesting double feature.