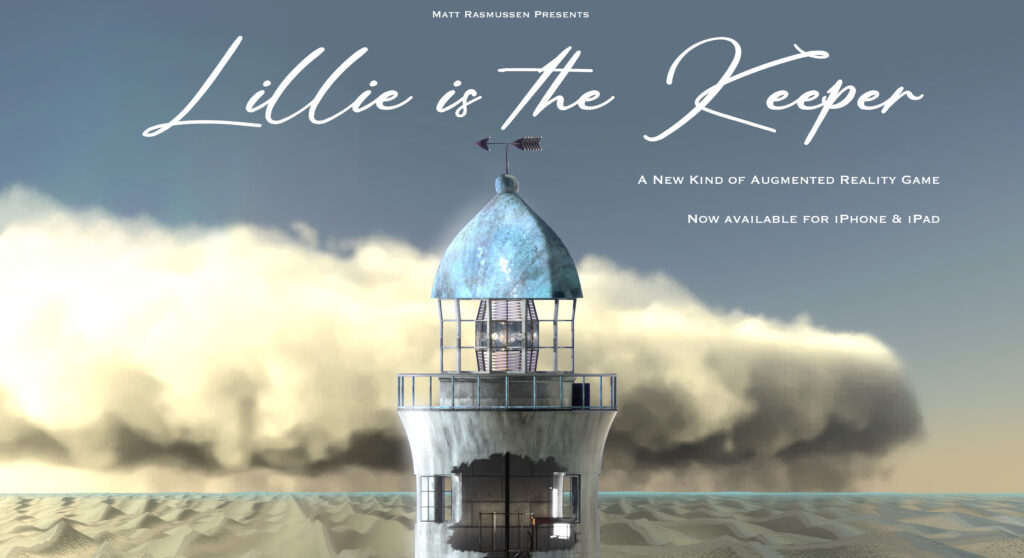 The year is 1905, and an uncanny catastrophe has marooned Lillie Flora Pine in far off Switch Rock Light Station.
Step into a first-of-its-kind mixed reality experience on your iPhone or iPad. Where you go, Lillie goes—across the room, up the stairs, or into the drink. Explore an atmospheric world between rolling seas and sprawling skies. Your device is your controller. Examine objects. Operate machinery. Read logbooks. And try to ignore "Mrs. Noonday."
Because Lillie suffers from intrusive thoughts. Now, they're her only companion.
An experimental handheld XR game. A short story in eight game chapters. Weird fiction meets Myst-like gameplay, without ads or tracking, featuring the voices of Sheri Lee, Robert Harrison & Melissa McCue-McGrath.
You've always wanted your own lighthouse.
Support
The most common issue with the app is a loss of position tracking, resulting in the avatar failing to move and/or suddenly jumping. Lillie is the Keeper uses iOS's AR Kit, which (except on high-end iPad Pros with LiDAR sensors) figures out its location via a combination of motion sensors and camera parallax.
You can minimize tracking losses in a few ways. Play indoors, in a space Make sure you have enough light. Avoid views with large, blank spaces. Repeating patterns (like some carpets) can confuse tracking. (Often, just tossing a sock onto the floor, or something else for it to "see," can solve this problem.)
If anything else goes wrong (or especially if you find a bug!) please reach out to me at LillieIsTheKeeper@gmail.com.
Background
Lillie is the Keeper is an experimental Myst-like game using AR Kit to create an immersive XR experience on an ordinary iPhone or iPad. It seeks to portray a character with a mental illness as neither a villain nor superhero, with Boston actress Sheri Lee performing much of the heavy lifting in a dual voice-acting role. Visually, it aspires to a heightened, rounded-off realism, pushing the Unity game engine's Universal Render Pipeline, without demanding top spec hardware or an absurd download size. LitK started life as an honors-graded Master's thesis at KADK in Copenhagen. It is developed entirely by cinematic & technical artist Matt Rasmussen.
Promotional
See screenshots above. Please send any inquiries to Matt Rasmussen at LillieIsTheKeeper@gmail.com
Privacy Policy
Product: Lillie is the Keeper (iOS)
Developer: Matt Rasmussen
Legal Address: 915 Appleton Rd, Union, ME 04862, USA
Contact: LillieIsTheKeeper@gmail.com
The Lillie is the Keeper app does not collect personal information from users.
Data collected is limited to anonymized crash reports from Apple, which will be used only by the developer to improve the app. No data is transmitted directly to the developer, nor any third party besides Apple.
The app requires access to your iOS device's camera while in use. It stores your game progress locally. The app contains no mechanism for sharing this information with the developer or any third party.
Use of the app constitutes your acceptance of this Privacy Policy. If (for some reason) you do not agree to these terms, you must delete the app from your device(s), and contact Apple for a refund of the purchase price persuant to Apple's App Store policies. Refunds will not be issued directly by the developer.