We found our audience. Troy Minkowsky's "The Garden (1910)" was requested for this year's Shawna Shea, and took home Best Experimental Short! Audience feedback was across the board praise for Troy's touching, funny and challenging retelling of the Adam and Eve myth.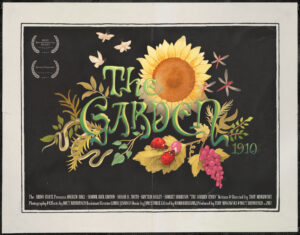 I was DP and Co-Producer on this 30 minute film, shooting on a pair of iPhones and producing the digital+practical special effects. It was an enormous but fun challenge, working out first how a magician from the early 20th Century would have accomplished the shot, then how I'd fake it–with a mix of puppets, green screen, miniatures, CGI and composites. We simulated manually cranked film with hand coloring in Blackmagic Fusion. It was film nerd heaven.
Big congratulations also go out to Miriam Olken, who took home a Spirit Award for her screenplay "Jaw" the same night. Olken served as my Assistant Director on "The Leaves." It's fantastic to see someone so talented getting real recognition.
If you haven't seen the film yet, it's available on Vimeo. (Free login required, due to non-sexual nudity.) And yeah, that was me at far right–God's only angel with a goatee.