A strange physics experiment leads to stranger chemistry!
— Listen —
Click here to listen to episode 105:
"We Heart Superman: The Krankorbatch Switcheroo!" (MP3 format, 24MB)
— Subscribe —
Get We Heart Superman automatically downloaded to your iPod or Zune! (Because somewhere, somebody has a Zune!)
Subscribe with iTunes or Zune Marketplace:
Or point your favorite podcatcher to:
www.spacetoast.net/stp/podcasts/superman/podcast.xml
— Friend —
Visit our MySpace page at MySpace.com/WeHeartSuperman.
Join our Facebook group, "We Heart Superman".
— Credit, Swag, Love —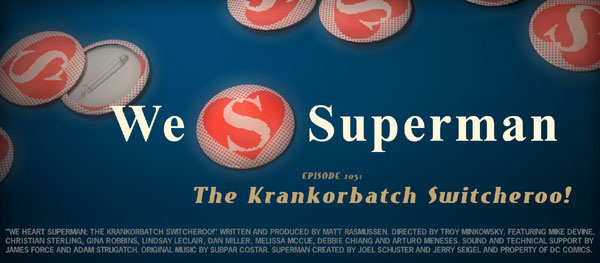 "We Heart Superman: The Krankorbatch Switcheroo!" Written and produced by Matt Rasmussen. Directed by Troy Minkowsky. Featuring Mike Devine, Christian Sterling, Gina Robbins, Lindsay LeClair, Dan Miller, Melissa McCue, Debbie Chiang, and Arturo Meneses. Sound and technical support by James Force and Adam Stugatch. Original Music by Subpar Costar. Superman created by Joel Schuster and Jerry Seigel and property of DC Comics.
Thank you for listening!