Scrounged some old planks for the roof. Condition was poorer than I expected. Cut boards to size. Filled gouges, nail holes and cracks with wood filler.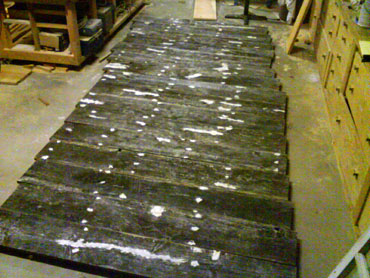 Duct-taped vinyl gloves to my sleeves and painted roof planks with Coppercoat wood preservative. Smell didn't dissipate for weeks.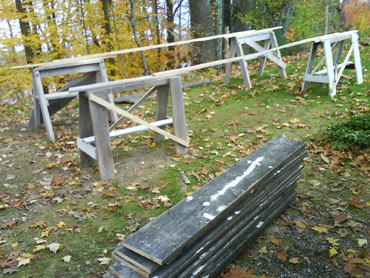 Hammered all but the topmost planks into place on a stepladder. Height difference of the westernmost rafter causing problems. Should be able to solve it later with trim.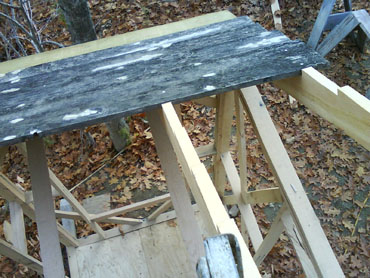 Cross-braced the rafters to make sure the roof would support my weight. Strapped an extension ladder to the frame of the shack to get access to the roof — wanted the frame to be holding my weight, not the ground at the base of the ladder.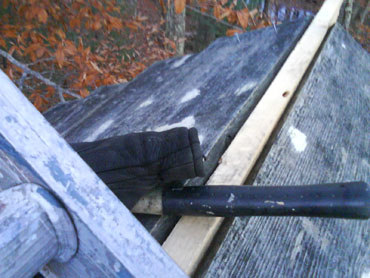 Nailed final sections of roofing in.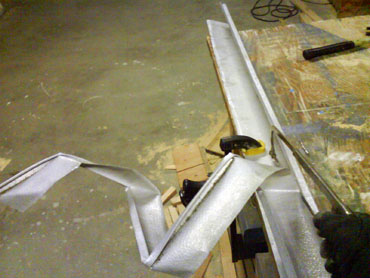 Offered to haul off some aluminum rain gutters my friends had been meaning to take to the dump. Hacksawed and hammered a roof peak out of one. Pounded nail holes in the workshop. Covered nail holes on the underside with Gorilla Tape as an additional water stop. Nailed roof peak into place.